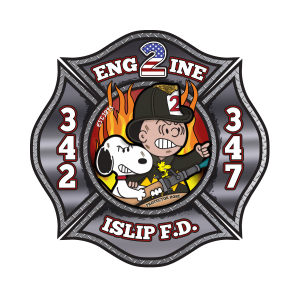 Joseph Ferrari
Captain
Bobby Delagi
1st Lieutenant
Joseph Raff
2nd Lieutenant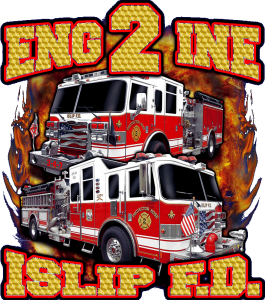 Engine Company No. 2 boasts a rich history that dates back to December 19, 1884 when Protector Engine Company No. 1 was formed. The company's first apparatus arrived from Kingston, New York, in the form of a hand-drawn engine that was nicknamed "Protector", in January 1885. The apparatus cost $394.20 plus $5.80 for freight and $1.16 for preparation. It was later sold to Farmingdale in September 1893, when a four-wheeled, side-bar hose carriage was delivered. The company was renamed Engine Company No. 2 on April 3, 1888, which was the same day that the Islip Fire Department was formed. On June 20, 1893, Protector Engine Company No. 2 was reorganized as Protector Hose Company No. 2.

Charles M. Brown was elected as the company's first "Foreman" in 1891. In 2004 the company designed a new patch that features the Charles Schultz character Charlie Brown and pays homage to its first Foreman. The company's first motorized pumper arrived in 1923 when a Robinson pumper was purchased and a used Packard was later converted as a hose tender. On October 9, 1926 the company named was changed to Engine Company No. 2 and Protector Hose became its nickname. The "Foreman" title was changed to Captain on the same day. In 1933 the Packard was replaced by a 1933 GMC Hose Tender. A Mack Mode A pumper that had been ordered in 1941 arrived in 1945. Delivery of the engine was delayed by World War II. It remained in service until 1971 when it was replaced by a new 1,000 gpm Model CF Mack. The company also took delivery of a 1,000 gpm Model C Mack in 1967 and this was replaced by a 1,000 gpm MC Series Mack pumper in 1982. The CF was subsequently replaced by a 1991 Emergency One/Mack MC Series pumper, whereas a 1,750 gpm Pierce Lance replaced the 1982 Mack in 2004. Today Engine Company No. 2 is authorized 36 members.

The apparatus currently assigned to Engine Company No. 2 includes a 2023 Pierce Enforcer Series 1,750 gpm engine that is designated as 3-4-2 and operates from Fire Headquarters. A 2007 Pierce Dash Series 1,500 gpm engine is assigned to Station No. 2 and designated as 3-4-7.